The tip of the iceberg
The new ice-cream season is knocking on the door! With positive weather outlooks the Easter weekend – traditionally the start of the new ice-cream season – will definitely become a success. Because people eat ice-cream when the sun is shining. That's why 2018 with her long and dry summer has been an incredible successful year for almost any ice-cream supplier. This applies for scooping ice-cream, for ice-lollies, for ice-cream in cups, for basically every segment.
Ice-cream is hot lately. And this can not only be explained because of the weather. When we look at the English market, leading in many food trends including ice-cream, we see that all segments have increased, apart from standard desserts. Remarkable is that both indulgence concepts and healthy variants are on the rise. The same consumer can be tempted by a creamy, white chocolate salted caramel ice-cream with pecan nuts on one moment and the next he or she is longing for a fresh, low calorie vegan lemon ice-lolly.
An innovative brand that is anticipating on both trends is IceKitchen. It's the story of Nadia Roden who was developing beautiful distinguishing ice-lolly's in New York, her nephew Cesar who translated the concept towards an artisanal production unit in London. The ice-lollies are unique in recipe and taste, both creamy and fruity variants are available. The visual aspect is very remarkable, whole pieces of fruit in the natural flavored and colored ice-lollies are a sight for sore eyes. In the meantime IceKitchen has expanded in the UK. Here the upcoming adult lolly segment of about ut £ 50m has shown an increase in value of 38% last year This indicates a lot of new opportunities for other markets.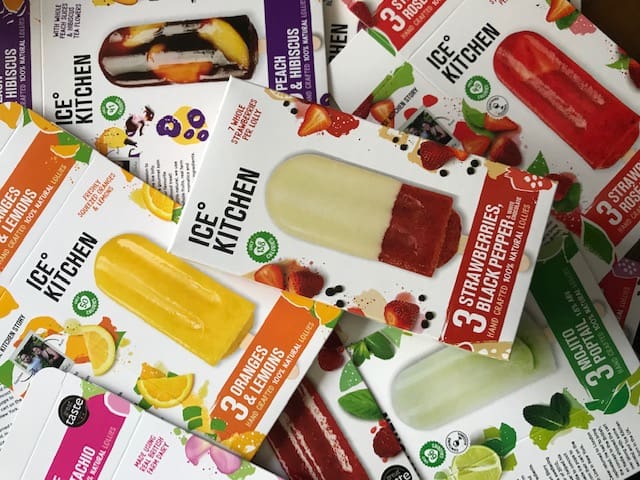 TEN the export network has translated the IceKitchen concept for upscaling in The Netherlands. For two weeks the ice-lolly's are on shelf at 150 Jumbo supermarkets. What about a lovely peach/hibiscus or strawberry/white chocolate/black pepper variant? nd this is just the start of all possible variants. So, it's really worthwhile to try an IceKitchen lolly the coming sunny days at a Jumbo in your neighborhood.
Contacting is entirely without obligation
Contact
TEN the export network
P.O. Box 339
8440 AH Heerenveen
Netherlands