The spirit(s) of Soho
What is more convenient in life than combining business with pleasure? On September 1st 2017, the day of our 10th TEN anniversary, we would be in London because of a meeting at the headquarters of Marks&Spencer. As London is a real food mecca, this is not a bad place for a celebration of course. In our case, this actually always means discovering new food, drinks and locations, therefore we decided to participate in a food tour through Soho. Together with an Australian couple we were guided by Joe along the different foodie hotspots.
Joe, actor, appeared to be an enthusiastic storyteller and also very fond of everything that has to do with food. The Aussies were not familiar with food tours either, as they were afraid to end up in a group that is following a lunatic with an upraised umbrella telling all kinds of things you already know. Their only experience in Rome turned out to be very positive, that was the reason why they dare to try it again . From The Palace Theatre we started our trip with rumbling tummies.
Forgive me father, for I have ginned
The first restaurant we visited was La Bodega Negra. Two traditional tacos with a modern twist were served. Not a bad start indeed, although the waiters were not really able to explain what the different ingredients and components were. Fortunately, there was Joe, who opened one of his 'visual aids' and showed us the ingredients of the fish & chips and the pulled chicken taco. Off we went to the second location, The London Gin Club. The table was set with beautiful, high gin glasses The sympathetic waiter told us all about the Seven Dials gin that was served. We could add some Fevertree tonic to the gin and as finishing touch we put an olive in our glass. The seven Dials is a small batch cold-distilled gin created by the London Gin Club using the seven botanical flavours of juniper, coriander, angelica, marshmallow root, clementine peel, cardamom and almond. The implementation of cold-distillation through a rotary evaporation still prevents the botanicals from becoming 'cooked' and helps retain freshness and vitality. As a quite moderate G&T fan I was surprised by the mild taste, but the real admirers at the table were definitely enthusiastic. The British gin-infused beef pie matched very well and also made that we did not lose our head already because of the alcohol. We still had some more spots to go to…
Of course, the Spanish kitchen was on the food tour's menu. At Enrique Tomas, a big name in Spain and also very successful in Soho with his own restaurant and shop showing a large selection of Iberico hams, we tasted different qualities of hams and manchego cheeses. Of course, this came with a nice glass of Spanish red wine. . We remained in Spanish atmosphere by visiting Pix Bar. You really feel a little in North-Spain when you see the bar covered with pintxos where we could select and taste from. We found out that thè food capital of the world according to the whole group would be San Sebastiàn with her famous restaurants and tapas culture. With that image in mind the Pix Bar was a rather poor substitute…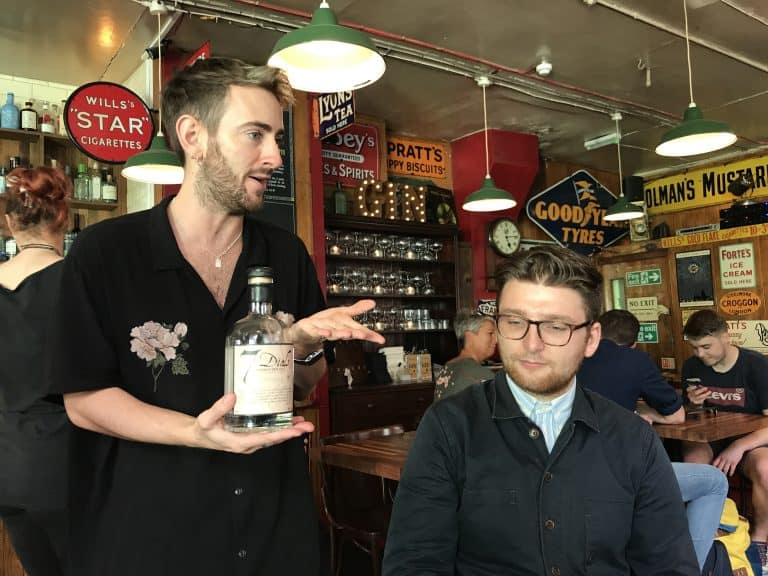 This is not a brothel…
The next location we would not have found by ourselves (4th floor, on the ground floor another restaurant was located) and we would not have entered by ourselves. n impressive guard and signs with texts like 'this is not a brothel, there are no prostitutes at this address' did not really confirm the restaurant feeling… Once inside at Opium we could enjoy the delicious dim sums and a remarkable tea. Well, tea, it was served from a teapot, but appeared to be a mix of vodka, rose tea, vermouth and rose champagne. And special it was! During our tastings we got to know our table companions better and better. We understood we were nicknamed 'Swamp krauts' in Australia as they called the Germans 'Krauts' and our country is kind of wet. The English were named Pommes. Why this was they did not know. But Joe knew and told them Pommes came from POME – Prisoners of Mother England. The Aussies were shocked that this was the original meaning… How informative such a tour can be!
Finally, of course, the dessert was served! We came down all the stairs, walked in the crowded and illuminated streets of Soho until we ended up in front of a wall – with a door. Joe lead the way into a cocktail & dessert bar, named Basement Sate. Here we enjoyed a lovely hazelnut praline dessert and toasted on our 10-year anniversary. Sate = 'Satisfy to the full' and this was exactly what happened ! We said goodbye to our tour mates, after Joe had taken us to the mural 'The Spirit of Soho' where the whole history of Soho was shown. 'So, actually, we could have gone here immediately and skip the whole tour, because all of Soho is summarized here!' Really? Not! We hadden al die mooie locaties en proeverijen zeker niet willen missen.
Contacting is entirely without obligation
Contact
TEN the export network
P.O. Box 339
8440 AH Heerenveen
Netherlands